How is Epilepsy Diagnosed?
In order to make an accurate diagnosis of epilepsy, a neurologist will review your symptoms and medical history and order several tests to determine the cause of seizures.
Neurological examinations test your behavior, motor abilities, mental function and other areas to diagnose your condition and determine the type of epilepsy you may have.
Blood tests will be done to check for signs of infections, genetic conditions or other conditions that may be associated with seizures 
Your doctor may also suggest tests to detect brain abnormalities, such as:
Electroencephalogram (EEG).

This is the most common test used to diagnose epilepsy. In this test, doctors attach electrodes to your scalp with a paste-like substance. The electrodes record the electrical activity of your brain.If you have epilepsy, it's common to have changes in your normal pattern of brain waves, even when you're not having a seizure. Your doctor may monitor you on video while conducting an EEG while you're awake or asleep, to record any seizures you may experience. Recording the seizures may help the doctor determine what kind of seizures you're having or rule out other conditions.

2. Computerized tomography (CT) scan. A CT scan uses X-rays to obtain cross-sectional images of your brain. CT scans can reveal abnormalities in your brain that might be causing your seizures, such as tumors, bleeding, and cysts.
3. Magnetic resonance imaging (MRI). An MRI uses powerful magnets and radio waves to create a detailed view of your brain. Your doctor may be able to detect lesions or abnormalities in your brain that could be causing your seizures.
4.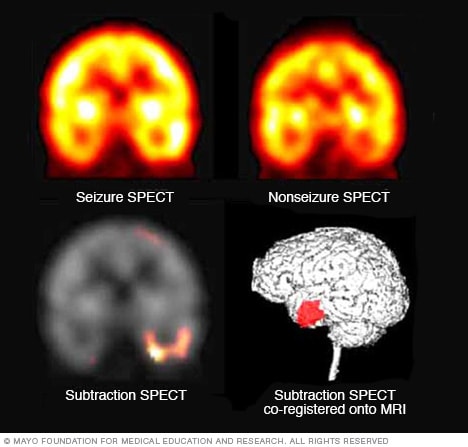 Single-photon emission computerized tomography (SPECT). This type of test is used primarily if you've had an MRI and EEG that didn't pinpoint the location in your brain where the seizures are originating. A SPECT test uses a small amount of low-dose radioactive material that's injected into a vein to create a detailed, 3-D map of the blood flow activity in your brain during seizures. Doctors also may conduct a form of a SPECT test called subtraction ictal SPECT co-registered to magnetic resonance imaging (SISCOM), which may provide even more detailed results.
5. Functional MRI (fMRI). A functional MRI measures the changes in blood flow that occur when specific parts of your brain are working. Doctors may use an fMRI before surgery to identify the exact locations of critical functions, such as speech and movement so that surgeons can avoid injuring those places while operating.
6. Positron emission tomography (PET). PET scans use a small amount of low-dose radioactive material that's injected into a vein to help visualize active areas of the brain and detect abnormalities.
7. Neuropsychological tests. In these tests, doctors assess your thinking, memory and speech skills. The test results help doctors determine which areas of your brain are affected.
Information is taken from Mayo Clinic http://www.mayoclinic.org